Jockey Sheldon Russell makes a successful return to riding on Friday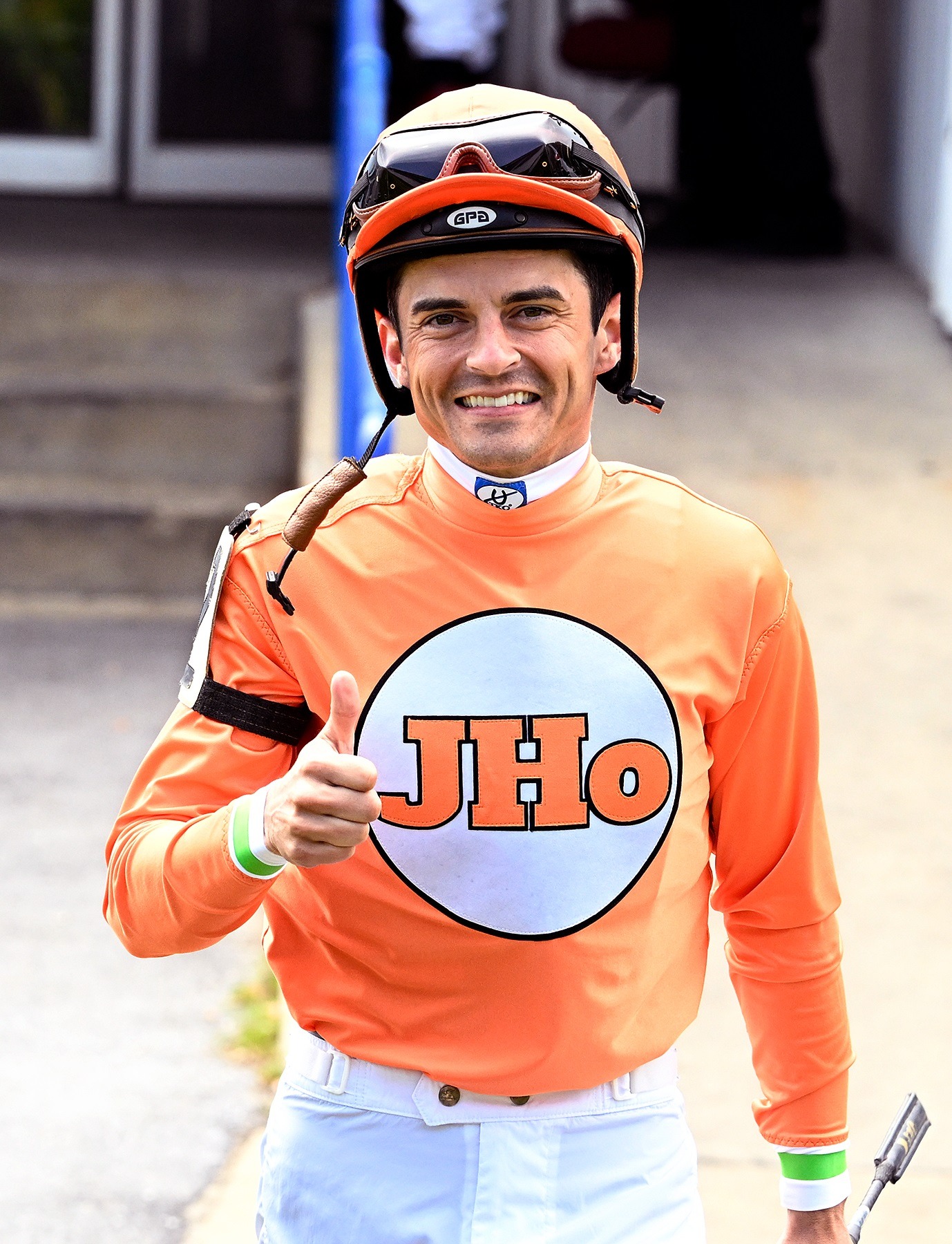 LAUREL, MD – Champion jockey Sheldon Russell, out of racing for 296 days, made a triumphant return aboard first runner Heldish in race four on Friday at Laurel Park.
ItsTheJHo's Heldish, a son of Great Notion bred in Maryland by R. Larry Johnson and trained by Russell's wife, Brittany Russellcovered five furlongs in 58.77 seconds on a fast main course to win the first claiming event for 2-year-olds by 2¼ lengths as a 4-5 favorite.
Heldish broke running from post 2 and was quickly in front, pressed on his outside by Box N Ben over a quarter mile in 22.93 seconds. The front two started to separate from their rivals on the far corner and straightened up to prepare at home for a stretching battle when Heldish broke away midway at Russell's request and pulled out .
"To be honest, I feel pretty good. We knew today that he was a pretty cool horse. It was one of my daily gallops every morning. I am very comfortable with him. You could see him on the afternoon parade, he's as cool as it gets," Russell said. "I want to say good job to Eric Camacho who takes it every other day. He was always classy. It was a great first comeback.
It was the first comeback race for Russell, 34, since September 9 at Laurel, when another Maryland-bred 2-year-old making her career debut, filly Little Bit of That, was spooked and rose towards the track, knocking down the rider, who had won earlier in the day over 3-year-old gelding Arrio.
Russell landed on his right foot, toes first, and was later diagnosed with a Lisfranc injury, involving both the bones and ligaments in the midfoot. Leading all Maryland jockeys in purse earnings and ranked second in wins when he fell, Russell underwent successful surgery later that month.
A long recovery and rehabilitation followed, including the removal of the material inserted to stabilize the foot, and Russell was finally able to get back on the horse in April. He was about a week away from returning to racing when he suffered another setback, breaking his collarbone during morning training. Sidelined for several more weeks, Russell was back on horseback in June.
"In terms of time, this is the longest of my absences and I would say probably the most difficult. Not being able to walk for four months was very difficult," Russell said. "We did three months of rehabilitation and ended up removing the screws and plates from the foot. There were times when I didn't think it was going to get better, but as we all know, if you give it enough time, everything heals. Just lucky enough to be back in the saddle today.
Represented by agent Marty Leonard, Russell has won six of his eight individual Maryland riding titles at Laurel and was the overall state champion in 2011. He has won more than 1,500 races and 43 million dollars in scholarships since 2007 after overcoming several injuries over the course of his career.
During his recovery, Russell has been busy spending quality time with his wife and children – daughter Edy, who turns 3 on August 25, and son Rye, who was born on November 1. He was at his wife's side when she also won Laurel's spring stand. like the Preankess meeting that followed at historic Pimlico Racecourse. Ironically, it was Little Bit of That's victory on Mother's Day, May 8, that earned them their first career competitive championship.
Russell has no mounts on Saturday but was named again in two of nine races on Sunday at Laurel, aboard Anthony Farrior-trained Jackie the Joker in Race 1, a 1 1/16 mile claim event at the track main, and Smart Eulee for trainer Tim Keefe in Race 2, a young contender sprinting 5 1/2 furlongs on Kelso's grass course.
"I have to say a big thank you to Justin [Horowitz]a die [Heldish] owners, for trusting me. He knows the horse worked really well in the morning," Russell said. "It would be easy to put one of the best sportsmen on him, but he gave me this opportunity and I will be forever grateful to him."
Maryland Jockey Club Press Release
Photo: Sheldon Russell (MJC Photo)