Redmond Equestrian Center helps people with disabilities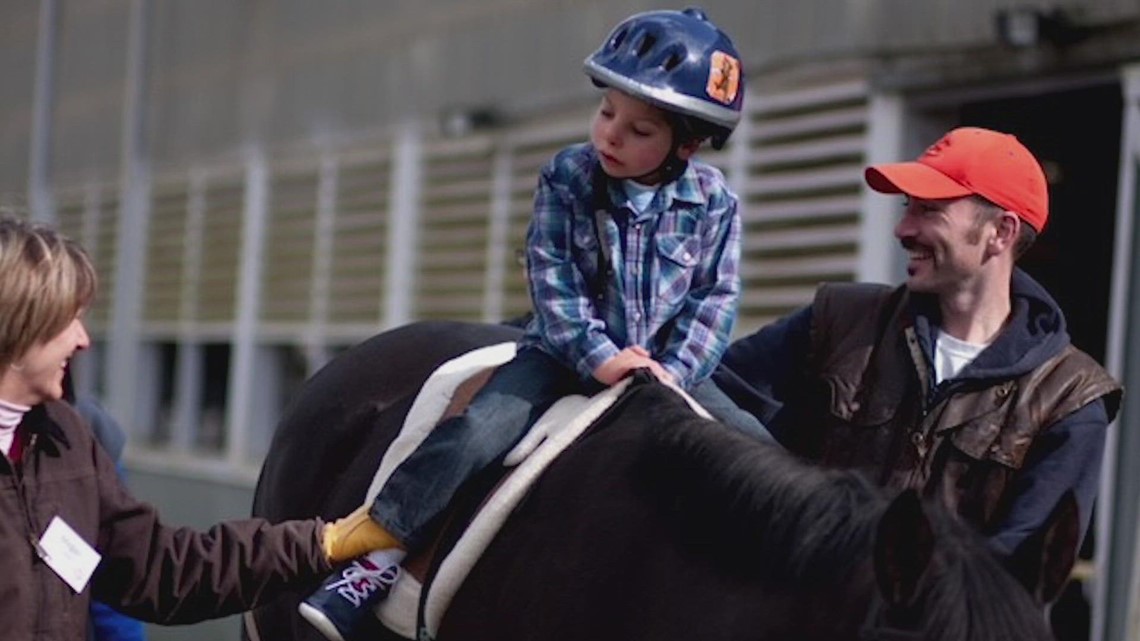 The Little Bit Therapeutic Riding Center assists disabled children and adults with horse riding and hippotherapy.
REDMOND, Wash. — A local family shares how a unique form of therapy changed their sons' lives.
Marci Bowker and her husband have spent the better part of two decades working with the Little Bit Therapeutic Riding Center in Redmond, which helps people with disabilities through horse riding and hippotherapy.
Both adaptive horsemanship and hippotherapy use the unique qualities of the horse to bring about positive changes in the lives of children and adults with disabilities.
Bowker said she witnessed the strength of the bond between humans and horses.
Both of Bowker's sons have a rare genetic syndrome called Smith, Lemli, and Opitz that manifests as low muscle tone, behavioral control issues, sensory issues, and limited fine and gross motor coordination. She said the first time she brought her eldest son to Little Bit, he was upset. However, once he was on the horse's back, things changed.
"His eyes lit up, he sat up straight and walked away," Bowker said.
Andrew Bowker learned to walk and socialize while undergoing therapy at Little Bit. Marci Bowker said he only had a one in two chance of living, let alone learning to walk. Now 15, Andrew works with his riding mate Ronan.
"Just seeing a child's bond with a horse is powerful enough to watch," Marci Bowker said.
The Little Bit Therapeutic Riding Center has been in operation since 1976. Executive Director Paula Del Guidice said the center's mission is to be a community where horses transform the body, mind and spirit of people with disabilities .
Little Bit was founded by a woman named Margaret Dunlap. Margaret suffered from multiple sclerosis and found that being on the back of a horse slowed the progression of her disease. The organization has become one of the largest nationally accredited, industry-leading international PATH (Professional Association of Therapeutic Horsemanship) centers in the country. Little Bit serves hundreds of riders and patients each week with over 2 dozen horses.
Over 350 volunteers help take care of the property and the horses.
The Little Bit Therapeutic Riding Center is located on a 14-acre property in Redmond. The organization receives donations that help reduce the cost of therapy and adaptive horseback riding so that families pay only 18-28% of the actual cost of the programs. The organization has provided therapy for people aged 2 to 80 and you can find out more, volunteer or donate on the Little Bit website.