Therapeutic Equestrian Center hopes Saturday fundraiser will help with repairs – Shaw Local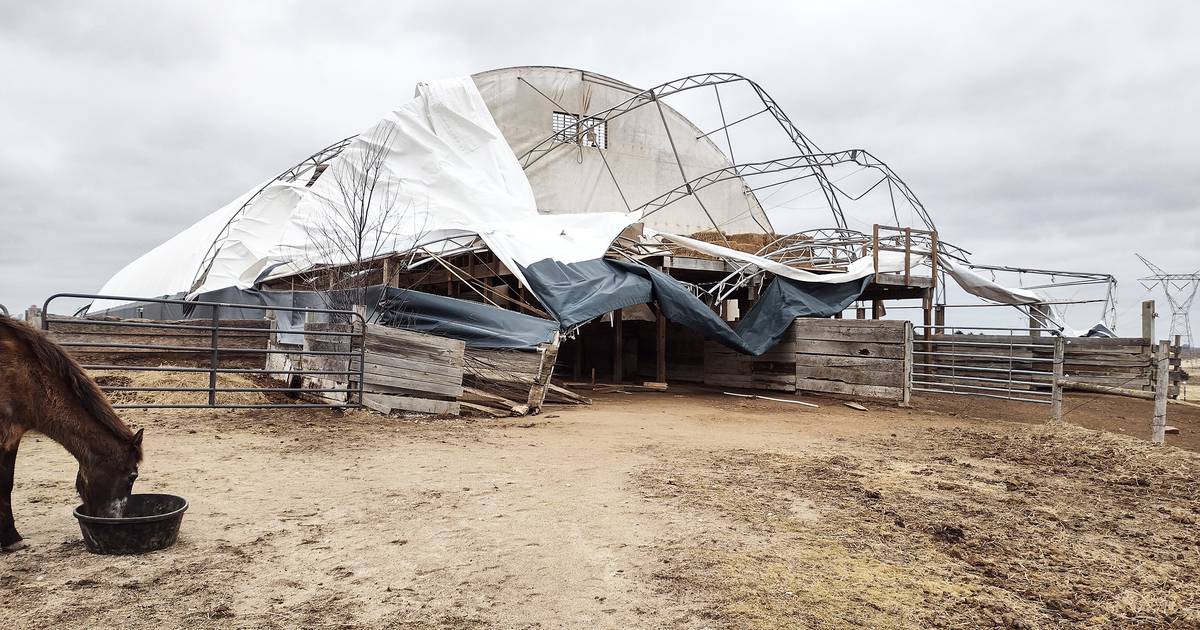 A strong wind swept through southern Ogle County in March and within minutes caused significant damage to the main arena building of Pegasus Special Riders, a therapeutic riding facility.
Four months later, the center is still reeling from the effects of the storm.
"We are still fighting with the insurance company and now we are waiting again," said Donna Fellows, chair of the board of Pegasus.
She was the first to learn of the damage caused by the March storm when she saw what the wind had done to the main building via remote cameras at the site.
Fellows contacted property manager Dave Diveley and when he arrived at the center he saw the devastation.
"The south end of the building took the brunt of it," he said in March. "All the horses were fine, but they were nervous because of the storm."
Eleven horses were housed under the wooden hay mower at the south end of the 62-foot by 420-foot building when the storm hit. The horses and two cats that resided in the structure were not injured.
The wind blew the north end of the building inward, twisting and bending the large garage door.
The "hoop" building was constructed in 2002. Its roof and sides are made of a large tarp called a "combination" that spans the steel frame. Sections of the tarp were ripped from the frame and laid nearby, while some sections remained on the frame with tears.
These shortcomings remain today.
"It's been like this since March 5," Fellows said. "It rained on our hay storage, so we had to destroy the hay that would normally feed the horses. We just made our first cut of hay, but when we get our second cut we don't know where we're going to put it.
Fellows, who helped restore Pegasus in 1996 by overseeing the therapeutic riding program and the purchase and development of the land on Carthage Road in southeast Oregon, said it is likely the Insurance settlement will not cover the full cost of reconstruction.
"We were told we had a 'cap' on our insurance so we could be liable for $100,000 or more just to replace what we have now," she said. "In 2002, it cost us $150,000. Now it has doubled in price.
She said officials looked at many different building types, rather than the hoop (engineered building).
"We looked at everything from pole buildings to metal buildings to our storage needs, but this [hoop] is the type of building we need," she said.
Metal buildings are mainly used for storage and do not have the proper ventilation or flooring for the driving area.
"We need a building that allows us to have softer ground for our aging horses and some of our volunteers as well," she said. "At this point, we really have to rely on donations."
According to the organization's website, "Pegasus Special Riders offers a variety of programs to benefit qualified individuals through programs and outreach programs throughout the year. The Therapeutic Riding Program improves the quality of life of those we serve. Our main clients are people with disabilities who benefit physically, emotionally and cognitively from animal-assisted activities, primarily through interaction with horses. We do not turn anyone away because of their inability to pay.
Fellows said Diveley is the organization's only full-time employee. Dedicated volunteers step in to help with daily chores and events.
"We lost an entire year of classes, but a lot of clients are sponsored by scholarships, so we really don't have a source of income," Fellows said. "We still have our horses and we have to be thankful for that, and we're so lucky that none of them were injured. But it's very intimidating.
Fellows hope supporters will come to Saturday's family picnic fundraiser to help raise money for the repairs. The festivities will begin at 5 p.m. at 6668 S. Carthage Road.
The $15 event, which will also mark Pegasus' 25th anniversary, features a pork chop dinner sponsored by Ashton's Ralph & LuLus and live music from Jim Kanas. The price for a family of four is $50 and there is no charge for children 5 and under.
"If it's raining, we want people to know that the event will take place rain or shine," Fellows said. "We will push all the equipment aside in our storage building and everyone will be covered."
Tickets will be available at the door or in advance by calling 815-973-3177.
About Pegasus
Pegasus Special Riders is a non-profit organization that provides therapeutic horseback riding to Northern Illinois residents facing physical, mental, and emotional challenges.
The organization is made up of 50 volunteers who are involved in all aspects of the program, from horse care, horse handling during lessons and household chores to fundraising and special events.
Visit Pegasus www.PegasusSpecialRiders.org for more information.