Where to go horseback riding in the mountains this summer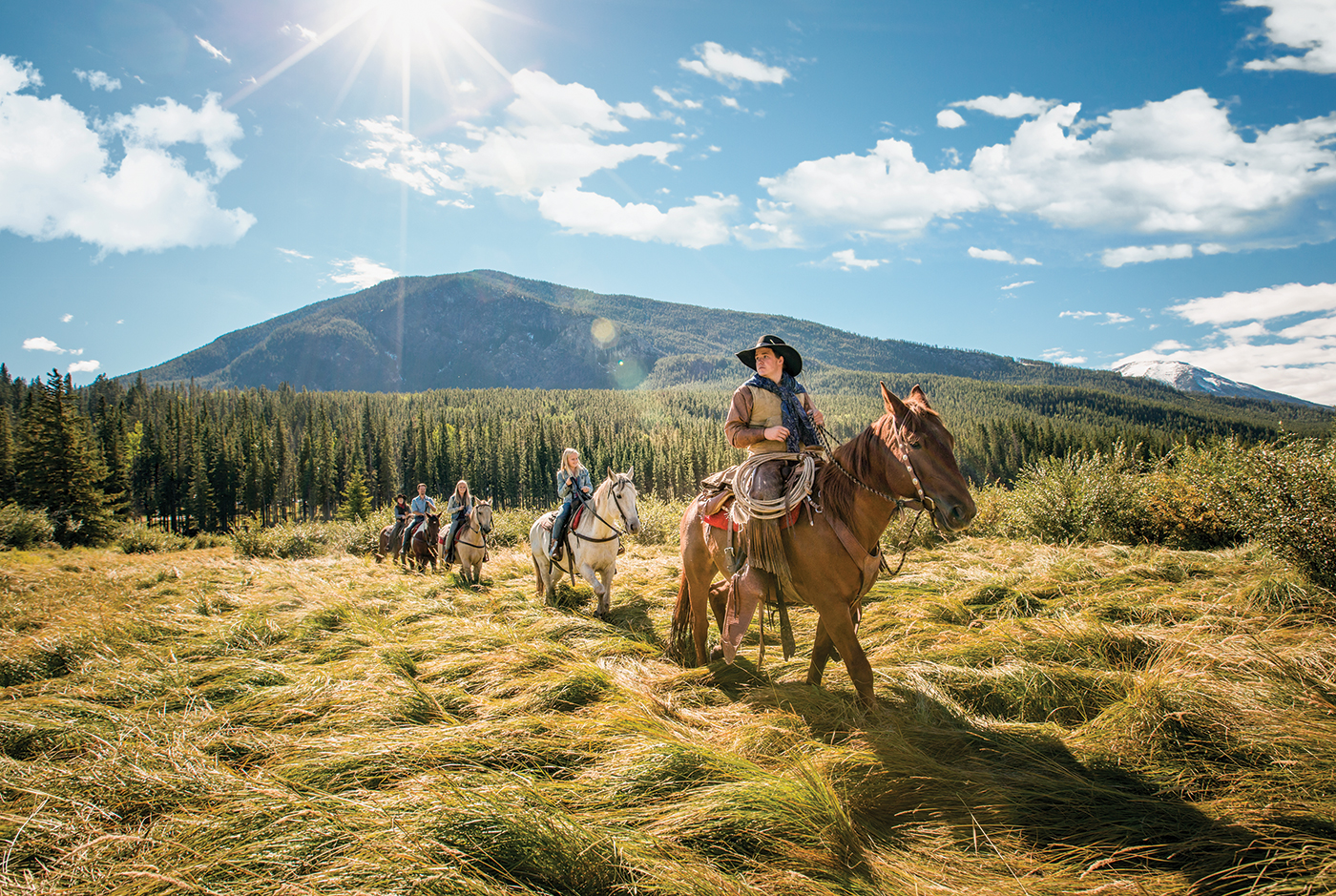 Exploring the Rockies on horseback is the adventure of a lifetime, a chance to commune with nature as you follow the routes trodden by Indigenous peoples and early explorers. Here in southern Alberta, there are a wide range of outfitters you can saddle up with, whether you're looking for a fun activity for a summer afternoon, a luxurious getaway at a lodge, or an off-road getaway. network in the rugged backcountry. .
Banff Trail Runners
Based in Banff National Park, this long-standing outfitter offers a variety of hikes and tours around the town of Banff, as well as two- to six-day lodge trips in the park's backcountry. "We go to very remote and special places," says operating partner and self-proclaimed cowgirl Julie Canning. One of the perks of riding in the backcountry of Banff National Park is that there are no motorized vehicles allowed, Canning says. "When you come with us, it's an opportunity to unplug." With comfortably appointed lodges complete with cooks, the Banff Trail Riders experience is one where guests can feel safe, secure and relaxed. Canning describes this mix of rustic and luxury as "the subtle balance of riding with Banff Trail Riders – the authenticity of being in the backcountry, while still being able to have a nice dinner with a glass of wine. ".
"People are looking for authentic and meaningful experiences that will allow them to learn about our country and our national park, and they want to do it in a respectful way. That's what Banff Trail Riders does: we take people to places that will change you.
horseback.com
Alpine stables
Horse riders have roamed Waterton Lakes National Park, a UNESCO World Heritage Site, for generations. Wardens had been patrolling on horseback since the park's earliest days, and long before that, Indigenous peoples, including the Blackfoot, well known for their horsemanship skills, roamed the area. "Many trade routes passed through Waterton," says Jenika Watson, whose family has run Alpine Stables in the national park for more than 50 years. "It's good to be part of that legacy." As the only outfitter licensed to operate inside the park, Alpine Stables offers a wide variety of rides from May through September. Walks range from one hour to a full day. For a backcountry experience, sister company Blue Ridge Outfitters runs overnight trips throughout July to Castle Wildland Provincial Park, just north of Waterton.
alpinestables.com
Trail Riders of the Canadian Rockies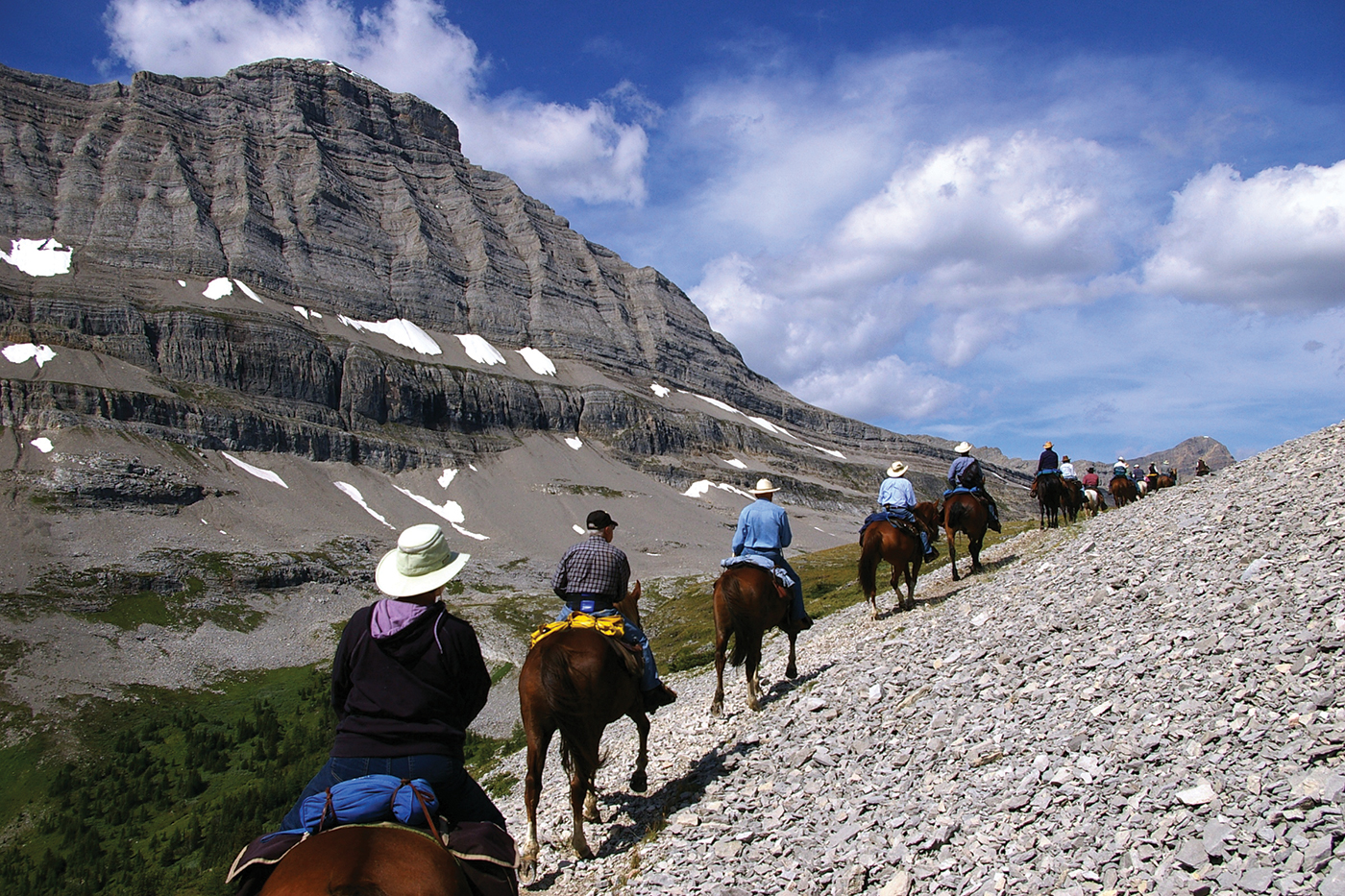 This non-profit club has been supporting mountain cyclists for almost 100 years. This summer, the club is offering a variety of riding experiences, including night lodge rides with Banff Trail Riders and trips with Boundary Ranch to the Little Elbow Recreation Area in Kananaskis Country. Boundary Ranch trips are for experienced riders or beginners who have what Trail Riders President Gary Sandbeck describes as "a really good sense of adventure." "The rides will typically last six to seven hours a day," says Sandbeck. "We ride in the high mountains and cross some of the highest accessible mountain passes. It's intense."
Trail Riders are also setting off this summer with Anchor D Guiding & Outfitting, an operation based in the Turner Valley region, for a seven-day journey across the Continental Divide between Alberta and British Columbia. This trip is for intermediate to experienced riders only. . "This feeling of getting high [in the alpine] with the horse is really, really special," says Sandbeck. "You trust your horse. On horseback, you can go further into the hinterland to places and sites that would be very difficult to access on a hike. What horses can do amazes me every time I ride.
trailridevacations.com
Cowley's Rafter Six Ranch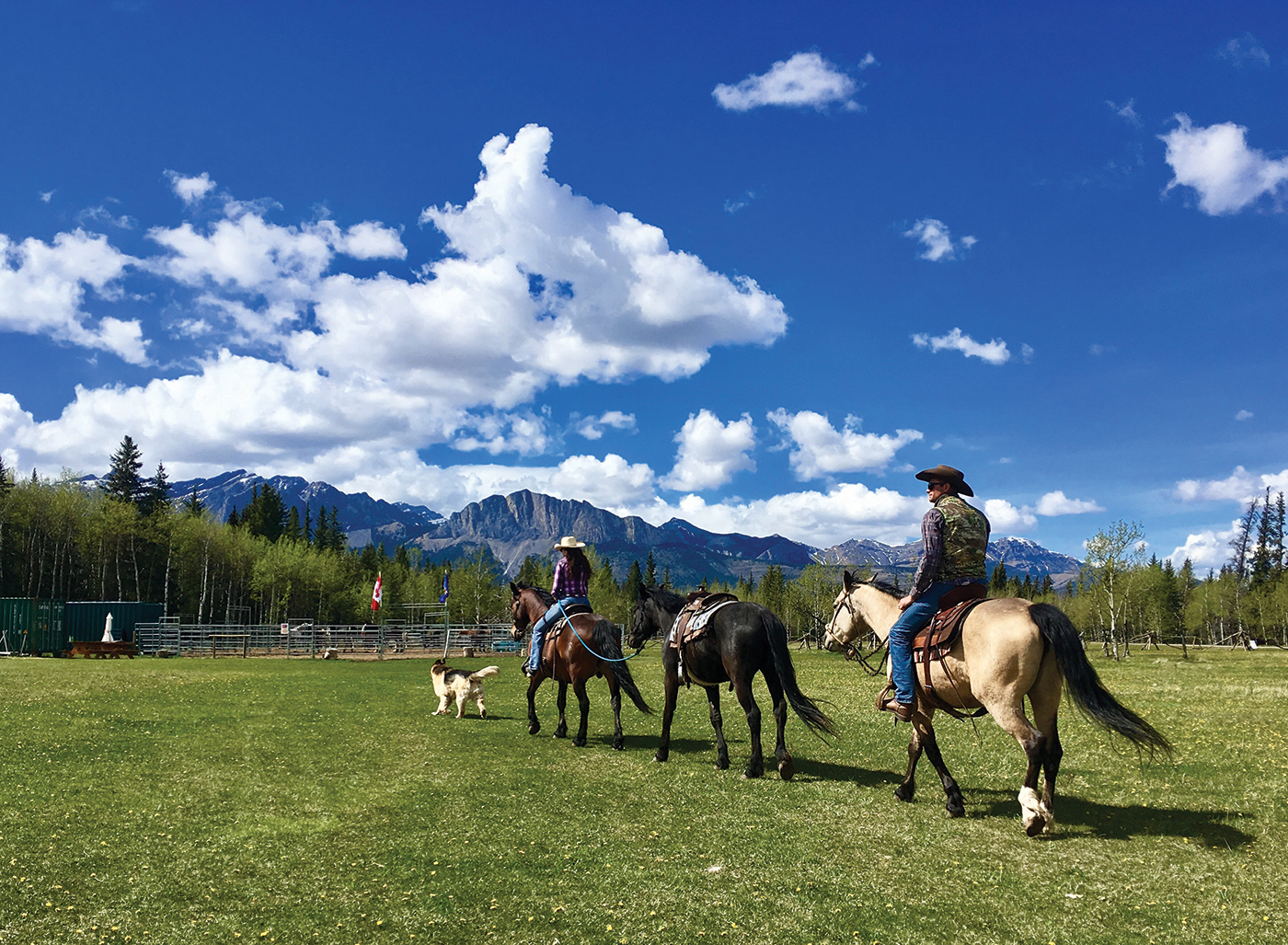 This ranch outfitter in Bow Valley Provincial Park offers customizable rides from May through October for all abilities, from pony rides for the kids to one- or two-hour, half-day, and half-day rides. a full day for advanced level adults. . The family ranch has been running Kananaskis Country treks since 1976. "We're really proud to have a Canadian Heritage herd," says Kateri Cowley of Rafter Six. "Our horses are so nice and really friendly. They love people and they love their jobs.
Rafter Six rides run along the Kananaskis River towards Barrier Lake. "It's one of the best ridings in Canada," says Cowley. "There are easy trails, and there are really hard trails, and the views are amazing." The ranch also hosts a rustic off-grid campsite. "We welcome visitors with genuine Western hospitality," says Cowley.
raftersix.com
painted warriors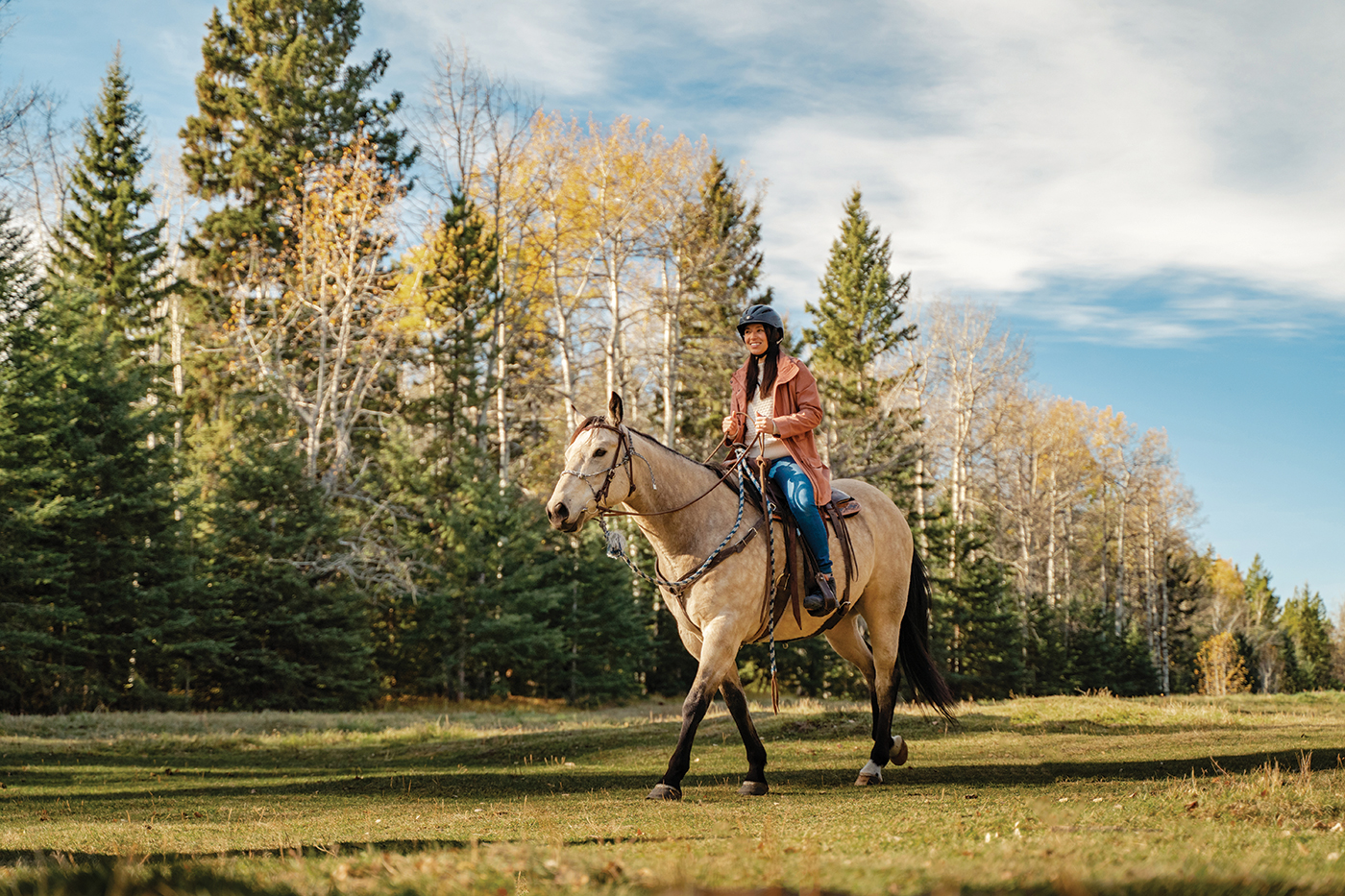 Located in Mountain View County in the northwest foothills of Calgary, Painted Warriors offers horseback riding, training, lessons and experiences presented from an Indigenous perspective. "You learn all about the place of horses in our culture," says Tracey Klettl, co-owner and lead instructor of Painted Warriors, who shares knowledge of her Cree and Mohawk heritage. (Her partner Tim is Ojibway.) "The spiritual part is that connection and that respect," Klettl says. "It's understanding how to work with that horse and respecting and understanding where that horse is coming from – looking at things from the horse's perspective."
Among the experiences offered by Painted Warriors is an overnight stay that begins with lunch and instruction in riding skills, including how to communicate with horses. Guests then spend the night in comfortable Métis trapper's tents and set off on a trek the next day.
There's also a four-day horse boot camp and a 10-day adventure that introduces guests to a variety of riding and backcountry skills. "Instead of sitting around and being waited on, they are there with us," Klettl says. "It's much more than a riding experience, as we incorporate as much as we can, including traditional foods and knowledge of, for example, how we would use herbal medicine in the event of an injury in the hindquarters. country."
paintedwarriors.ca
ride for free
If you've ever wanted to try bareback riding, Eagle Feather Riding, a half-hour drive west of Calgary, offers bareback riding lessons for all ages from September through June. The students ride the same horse throughout the year, guided by a "co-pilot", that is to say an experienced rider who walks alongside him. This style of riding appeals to "very sensitive, gentle people who want to connect with a living being," says Vickie Tait, owner of Eagle Feather Riding. "It's a deep connection."
eaglefeatherriding.ab.ca
Avenue writers and editors are sometimes invited to experience dining or adventure activities as guests, including some of the experiences in this story. No additional experience or advertising is required for Avenue coverage. Neither companies that advertise nor those that offer other incentives are promised editorial coverage, nor are they given the opportunity to review or approve articles before they are published.